FANS of WCRAS strongly believes in positive reinforcement-based training to help solve behavioral problems and to create a loving bond between you and your dog. This website contains a list of such trainers.
Teacher's Pet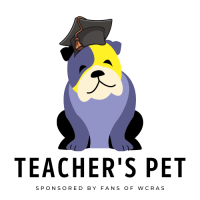 FANS of WCRAS is proud to sponsor the Teacher's Pet pilot program, a partnership with the Williamson County Regional Animal Shelter. This program aims to encourage the successful adoption of some of the shelter's longest-stay dogs by providing up to 5 FREE training sessions once the dog has been adopted.
There are 5 dogs in the Teacher's Pet program to start, selected by shelter staff. All an adopter needs to do to take advantage of this wonderful opportunity is contact Every Dog Behavioral Training to make arrangements. The first training session is held virtually; further training sessions may be virtual or in-person, at the discretion of Every Dog.
You can find more details about the dogs included in this exciting new program on our Facebook page.
If you like this program and would like to see it continue, consider making a donation today! Select the FANS Second Chances program where asked.